Ice Cream Cart Hire London & Surrey
Ice Cream Cart Hire.
All things Ice Cream! Thats what we are!! We provide a complete one stop shop for all of your Ice Cream Cart & Trike Hire or rent needs. What do we have? Well we have the lot! Ice Cream Carts, Ice Cream Vans, Ice Cream Rolls, Corporate Branded Ice Cream, Seasonal Ice Cream Flavours. We can even provide Ice Cream in a colour (!!) of your choice. Thats right. If you have a colour theme and want the Ice Cream to match, we will provide Ice Cream of that colour. We are unique. We are experts. We are Icecreamcarthire
Ice Cream Trike & Cart Hire Flavours….over 50 Flavours to select from!!
We have over 50 yummy flavours to select from! These flavours are award winning and are rich in taste, quality and leave all guests feeling thoroughly delighted! Why not try Vanilla pod or perhaps Mint Choc Chip? Or how about Coffee Mocha? Or Chocolate & Coconut? Fancy something for the kids? There's bubble gum flacour which they all love.
And of course, we cater for all diets so we have a wide range of Sorbets including Gin, Champagne and the favourites of Orange, Lemon & Pink Grapefruit
Corporate Branded Ice Cream Tubs
Ice Cream Trike Hire in London & Surrey is perfectly personalised. Whether it be a Corporate event, festival, Party or Wedding, we can provide corporate branded tubs for your event. We cover branding on everything to make your event really stand out:
Branded Ice Cream Tubs & Cone Sleeves
Branded Ice Cream Freezer magnets
Branded backdrop to our Vintage Trike & Cart
Branded Clothing for staff to wear
Your one stop Ice Cream Trike & Cart Hire London & Surrey company for all things Branding
PIMMs & Lemonade? With a generous amount of strawberries and mint? All on ice? Why not? It does not have to be Wimbledon for you to enjoy PIMMs. We offer PIMMs all year round in our beautifully decorated PIMMs carts.
The carts are themed and PIMMs is served on ice.
Also fancy something else alcholic? Why not? We do a range of cocktails and alcoholic drinks all served from our carts. So really give your guests something different
Hey, we can even have some alcohol chilled and poured over ice cream for you! It will leave your guests amazed!
Ice Cream Rolls are ready to be served…
Ice Cream Rolls in London & Surrey. Want to try something completely different? Why not give these a go? They are prepared in front of your eyes! Thats right. They also come with a range of fillings including strawberries, pineapples, coconut. Also you can have something a bit sweeter. Such as Oreos, Wafers, flakes, mars bars. Whatever you like!
Totally personalised for your event
Ice Cream Trike & Cart Hire London & Surrey is what we specialise in. However, we do have sister companies that can provide a wide range of services. They specialise in Photo Booths, Chocolate Fountains, Candy & Popcorn Carts, Giant Games, Close up Magicians, Giant LOVE Signs and much more
Whats even better is that you get a multi package discount when you hire additional services with your Ice Cream Trike or Cart. Shall we give you an example? Well you can get an Ice Cream Trike & Vintage Popcorn Cart from just £495! Thats great value for unlimited visits and service!*
For total peace of mind, you only have one company to liaise with for your special day. Icecreamtrikehire will take care of everything for your other services hired. Leave it to us. Your event is special to us and we want to provide you with the very best in service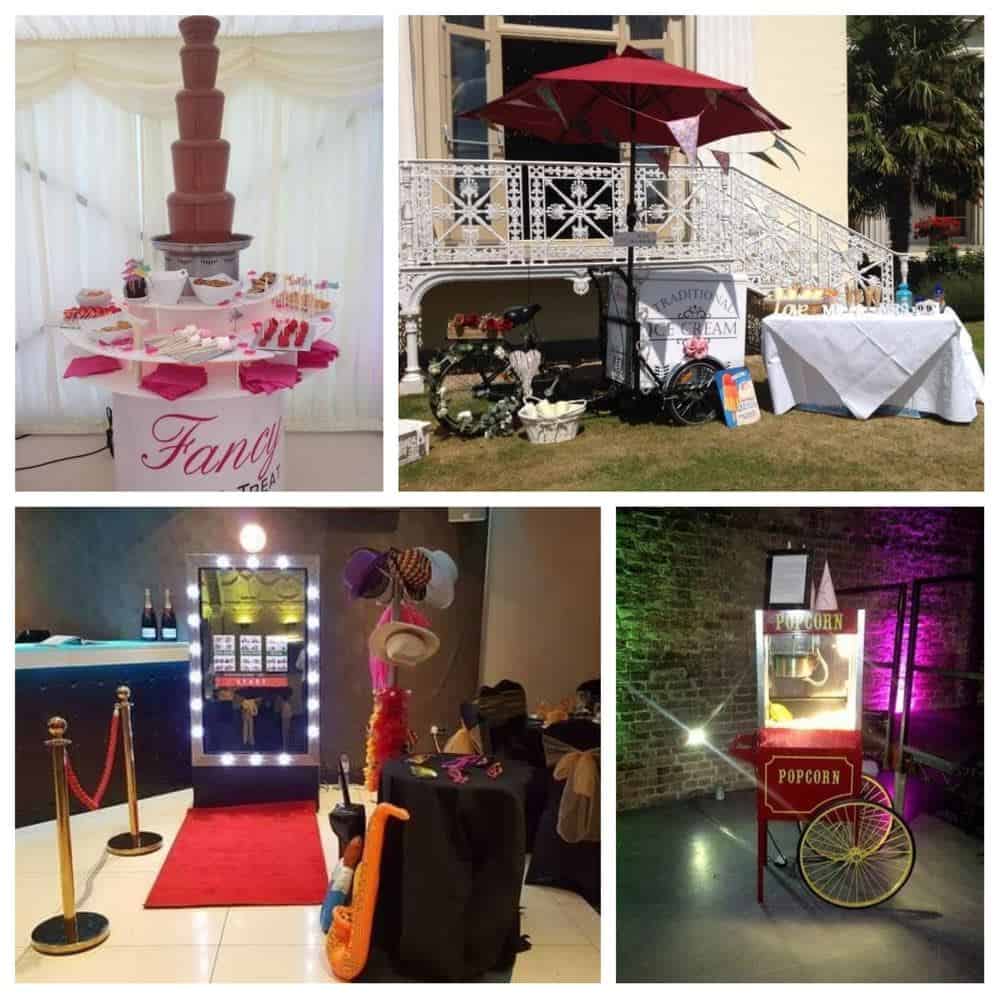 Ice Cream Trike & Cart Hire London & Surrey
Ice Cream Trike & Cart Hire London & Surrey, Berkshire, Middlesex, Kent & Sussex. Ice Cream Carts & Trikes, Mr Whippy, Ice Cream Rolls, Alcoholic & PIMMs Carts to rent and hire. Prices start from £295. As seen on BBC1 Children in Need 2017!. We provide Ice Cream Trikes & Carts to hire or rent for your event. Cheap Ice Cream Carts to hire as prices start from £295. We are a leading London Ice Cream Cart provider and aim to offer excellent service. When you're looking for the best Ice Cream Cart hire Surrey, Berkshire, Middlesex, Kent, Sussex and London has to offer, call us right away. You may be surprised to know that it's cheap to rent an Ice Cream Cart or Trike even though it seems like it might be expensive. We specialise in providing a high quality service at affordable and cheap discount prices. Also feel free to visit our sister site https://fancyatreat.co.uk. There you can hire Ice Cream Trikes and Carts, Magicians, Chocolate Fountains, Candy and Popcorn Carts and our amazing LOVE Sign See our latest reviews on Google+ . We also provide Photo booths which are great fun and this article here provides a great insight into the fall and now the rise, of Photo booths. Hire one for your forthcoming event!